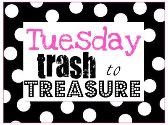 Sassy Sites has a trash to treasure link-up and I couldn't resist. Ummm, I think I have mentioned my addiction to fabric flowers of late.... so how about flowers made from neckties.
I'm not quite sure what he did to it, but it is trash. The front of it is totally discolored. It isn't even worthy of the donation bin.
So trash....
.... turned into a treasure.
Perfect as a brooch or a clip for my hair.