I'm linking up again to
Sassy Sites
, Trash to Treasure Tuesday.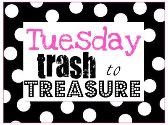 This time I took an old egg cup and transformed it into a pin cushion.
The other day I was rummaging though my cabinet looking for something and sitting out there in front was this beautiful egg cup. For some reason it hit me that this must become a pin cushion. See what a little rest and relaxation will do. It gets the creative juices flowing again.
I have had this egg cup for years. It once belonged my great Aunt Yvonne's and when she passed all the female relatives received pieces of her dish collection. My grandmother didn't have the heart to trow away such unique collection. Nothing matched, but the colors were bright and vibrant. My Aunt definitely bought what she liked and these items sure matched her personality.
I guess that is why I have never given it away. I not much of a saver, so the fact that I still have it, and have never used it, says something about this piece. I love the aqua color and the vintage style of the egg cup and I recently received this great red fabric from a friend that thought I could use it for something. Thanks Cindy. The two pair perfectly.