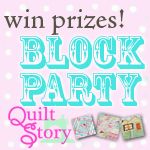 Here is my entry for Quilt Story's Block Party in the Creative category.
I am calling him "Robot Love" since he will eventually be made into a pillow for my youngest son. I can't wait to add the details when he is quilted. He is of my own design and is patchwork pieced.
Finished block size is 12".