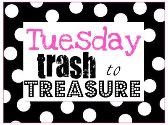 Again, I am planning ahead for Christmas, and I made a
hooded towels
for a friend. They make great gifts for the little ones that are to big for those itty bitty baby hooded towels, but still want to wrapped up nice and cozy, when they get out of the tub. The problem is after I am done making them I am left just a little bit of ribbon. Sure you can add it to your stash of ribbon bits, soooo, it is not exactly trash but let's face it.... What are you really going to do with it?
I am also in Back to School mode (I know, there is a lot going on in here) and my daughter, she is 8, has a love affair with Chap Stick and Lip Gloss.
So, I took my little bit of ribbon and a swivel hook and made her a chap Stick/Lip Gloss holder.
Using my Chap Stick as my guide I folded the ribbon over, so the raw edges were inside, and ironed everything into place.
I added my swivel hook.
Then I pinned it together and sewed it along the edge on both sides.
Now that is all set, let's see if we can move on to more important things. You know like clothes, shoes, school supplies, etc....