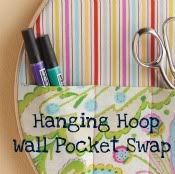 I think I might be squeaking this one in just under the wire. The deadline for sending out this swap is in 2 days, and I hate to admit it but it had completely slipped my mind. It wasn't til yesterday when the mailman dropped off my box of goodies, that it all came back to me. Thankfully mine is mostly done and all I had to do was put the finishing touches on the back.
I love mine! My
partner
out did herself, don't you think? She even added a little pin cushion at the bottom. Too cute! I wish I would have thought of that.
Here is what I will be sending out to my partner. I would just like to stop at the quilt shop in the morning and pick up a few fat quarters to send along with it before I put it in the mail. Every swap package needs a bit of fabric don't you think?
This
swap
was a lot of fun to do and I hope my partner enjoys opening her pocket hoop with all the little goodies, as much as I enjoyed opening mine.