That's right ladies you heard me right it's a Scrap Swap! Who's excited? I know I am. Hop on over to Sew Sara and check out all the details.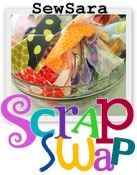 Like some of you out there I have been on a fabric diet for some time now and I am really looking forward to swapping some fabrics. I'm not picky I will take just about anything. I have even been know to work for fabric scraps. I know, how sad, but there is something exciting about going through a bag of scraps. I love it. You never know what you're going to get. It's like those cheesy grab bags you got as a kid, only better, because now you know it isn't some cheapo toy that's going to break in a week.
I save just about every bit of fabric that I can. A good portion of my stash is scraps from other projects or the orphan scraps I have tried to give a good home to. I can't bear to throw away good fabric that could be saved for a quilt or other small project. Of course now my mantra must be...
"Scrap unto others as you'd have them scrap unto you."
It will be hard to part with certain prints but I have faith that my scraps will be given a good home and be loved as I have loved them.
Sara was also looking for scrap project ideas or inspiration to share. So, I thought I would share a quick and easy project that is fun for the kids.
Beans Bags
All you need is some squares and some beans.
Here I have some left over 5" square novelty prints, that I coordinated with a solid color of the same size.
Then with a 1/2" seam allowance, I sewed all around the edge leaving about a 2" opening. I clipped the corners and then turned them right side out.
Once they were right side out I filled them with about a 1/2 a cup of dried beans. Then using my zipper foot, I top stitched around the edges closing my opening.
Now have fun. Be a kid again. Play hopscotch, bean bag toss or make up your own game. The possibilities are endless. Just think you could put numbers or letters on them or make them in all the colors of the rainbow.