Welcome!
I am so glad to be participating in the Fall 2012 Bloggers' Quilt Festival, hosted by Amy Ellis of Amy's Creative Side. It is such a great way to share our quilts and to find new inspiration in others. I look forward to spending some time this week reading about all the wonderful quilts out there. I truly believe that behind every great quilt is an even better story.
I am entering my Vintage Modern Bowtie Quilt. Originally, I made this throw quilt for my aunt. She is kind of like our family historian and big into Ancestry.com. She is a collector of family stories, pictures, and art. So, I thought it would be fun to make her a quilt to add to her collection of family art. She has paintings from my grandmother, carved wood blocks from my great-grandfather, and countless other items. Now a quilt from me, which is now proudly displayed in her living room.
Along the way, as I was designing this quilt, I decided to submit the idea to Moda Bake Shop. Then to my surprise they excepted it. The tutorial is featured here. I designed this quilt around a layer cake that I had bought when the Vintage Modern by Bonnie & Camille for Moda first came out. I instantly fell in love with this line and just knew that the colors would suit my aunt perfectly.
I re-designed the traditional bowtie block with set in seams to efficiently use a layer cake generating very little fabric waste. Then I eliminated the need for the templates by coming up with a way to cut the blocks using a rotary cutter. It is machine quilted by me. I used a walking foot and an off white cotton thread. I echoed the bowties, added the diagonal lines, then finished it with some straight line quilting around the borders.
Blogger's Quilt Festival Stats
Finished quilt measures : 68" by 58"
Special techniques used : set in seams,
Quilted by : Ann, A Girl in Paradise
Best Category : Home Machine Quilted Quilt, Throw Quilt, Scrap Quilt
If you're visiting my blog for the first time, please feel free to check out some of my other Quilts and Tutorials. Below are a few of my favorite projects…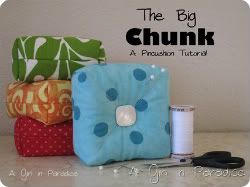 Thanks for stopping by, and have a great week!
Subscribe to Updates - Like on Facebook - Follow on Twitter